Re-watching this again! It's just too good!
Risembool Ranger Anime Reviews
[Warning: This movie follows the events of the series The Melancholy of Haruhi Suzumiya]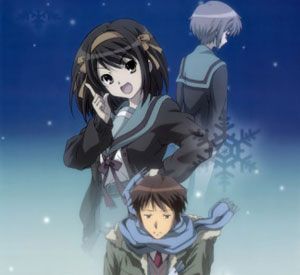 Story:
Haruhi loves the holidays and, as usual, she goes overboard planning for Christmas by making Kyon, as usual, do all the work. But when one morning starts out without Haruhi in class and then one student after another claims to have never heard of her before, Kyon begins to realize that something has gone very, very wrong.
Violence:
There is a stabbing scene and the blood, while not over-the-top, is pretty obvious. Thankfully though, it's the only violent scene in the movie.
Language:
Just as in the series, the language is pretty average with da-ns, sh-ts and such. Not too frequent, but there.
Nudity:
Again, just as in the series, Mikuru has a large chest and Haruhi makes her dress in skimpy outfits. There aren't nearly so many fan shots in this movie as…
View original post 295 more words